BABA is coming to Dallas. It is very hard to describe who Baba is; he is a lover and a disciple of Osho, however to many people across the world he is a living master who has imbibed Osho's message and grace.

Osho named him PURNANAND BHARTI in 1977. Thirteen months after taking sannyas, while sitting  with his friends he experienced his "happening" which over a short period of time blossomed into enlightenment.
Soon friends and seekers started to refer him as BABA.  Baba is a term of respect or endearment.

Baba lives in India in an ashram on the banks of River Narmada, his lovers visit him to sit and meditate in his strong presence and have their questions answered and eventually dissolved.
Friends from USA have been trying hard to invite him to USA and faced many hurdles in past but all things are falling in place now. Perhaps we are ready now.
This is a loving invitation to everyone to use this opportunity to meditate with Baba, get his insights and receive authentic answers to your questions.
Details 
The event is open to all. No prior experience is necessary.

Friday OCT 2 - 7:00PM - 9:30PM
Saturday -OCT 3 - 8:00AM - 8:00PM
Sunday - OCT 4 - 8:00AM - 5:00PM

To absorb BABA's presence and maximize the benefit, please plan to attend for entire event.

Price: 

$150 /person including 4 meals.

$250 /Couple including 4 meals.

Fri evening only - $25 - Including evening meals.
Saturday - $100 - Including meals.
Sunday - $75 - Including meals.

Follow the link below to pay

Click here to pay-(This will take you our website, scroll down to find "Donate Any Amount" button. Please mention "BABA" in the notes or send us an email at zorbastudio@gmail.com after paying. ).

At Zorba Studio, 3207 SKYLANE DR STE 102 Carrollton, TX

*Osho Dallas is a non-profit organization.



BABA on YouTube
There are few impromptu Videos of Baba on Youtube. Here are the links -


English 
https://www.youtube.com/watch?v=6Xwin_CkkEw
https://www.youtube.com/watch?v=6TMzGaapoXg

Hindi - (Interview of Baba taken by Swami Arun!)
https://www.youtube.com/watch?v=7XuS9wJffOU
https://www.youtube.com/watch?v=dIYxhPy6-uc
https://www.youtube.com/watch?v=1bUT0eM5l3M

Baba on Facebook -
https://www.facebook.com/pages/BABA-Purnananda-Bharati/449910735132349?fref=ts

Excerpts from impromptu Talks by Baba-


"The first and most important step in your spiritual journey is ACCEPT YOURSELF AS YOU ARE , just as you are. Then you can be a witness, If you don't accept yourself how you can be a witness , you will be always busy trying to change yourself , fighting with yourself.
The DOER will be always more important then the WATCHER for you.
So just accept yourself AS YOU ARE.
Slowly slowly you will understand this mystery , and you will be able to accept everything as it is , the all Existence AS IT IS.
Then you will live as a perfect witness.
Just like an actor who is playing his character role in a movie.
He is acting as his best , but he knows that he is not the movie happening around him , and he knows he is not the character role that he is playing.
He is only the actor.
And you are only the witness."
BABA


Merging into Existence....
" On the spiritual journey, there are many ups and downs.
It happens because it is a process of facing and cleaning the all unconscious mind,
and this very process creates
many different experiences,
sometimes blissful and sometimes difficult.
As we grow our consciousness,
we become aware of beautiful spaces
inside our being,
but at the same time our personality
becomes integrated, our ego crystallises,
and this creates a spiritual agony.
This agony is very helpful for the seeker,
because it creates a deep longing
for disappearing as a personality,
surrendering and merging with Existence.
Merging into Existence means
the disappearing of all suffering
and the celebration of eternal bliss…. "
BABA

The Spiritual Journey needs.commitment and patience.
 Don't be in a hurry for Enlightenment,
 or it will become an obstacle.
 There are people that are with me from twenty years,
 and still they have not solved all their problems.
 When they first arrived to me they were suffering
 in their minds,
 but they have a meditative space now,
 and mostly they are enjoying themselves.
 They earned it in all these years,
 meditation after meditation,
 with continuity and patience.
 And yes, few seekers have attained with me,
 and now they are free.
 But the majority of seekers need a longer journey.
 In life, everything valuable needs time to get,
 and Enlightenment is the most precious
 of all things, it is for eternity.
 It will grow like a flower inside you, in its own time,
 in its own season.
 It will depend on your thirst
 and surrender in meditation,
 and on your stage of purification
 of your unconscious mind.
 Leave it to Existence.
 But the people who are sincerely
 meditating with me,
 are enjoying themselves more and more each year.
 It is a beautiful journey. Be patient and enjoy. "
BABA

" My message is : enjoy your life, herenow !
 Celebrate moment to moment ….
Don't waste your life in mind games, in emotional dreams.
 If you live on the emotional plane you are living in a play, and by its very nature the emotional play evolves into a drama, and then you suffer.
 Even the Master cannot help you deeply, if you cling to emotions and ideas.
 Enjoy life, your vitality ! Expand your life energy ( Prana ), and celebrate it …
Strengthen it trough Pranayama, allow it to flow in dance and in Kundalini meditation, purify it trough Nadabrahma, make your life energy flow healthy and natural and enjoy yourself …
I cannot explain to you this mystery, but when you are fully enjoying your vitality here now, you are also very close to awareness.
 Only one step more. Just sit, doing nothing, and relax inside yourself.
 And slowly slowly, day by day, you find what you are searching for. You disappear into this beautiful Existence. Now you are at home. "
BABA
BABA : … HOW TO GO DEEPER IN MEDITATION ?
" In meditation you don't need to make efforts. In fact, if you are making efforts you will remain outside yourself, you will not go deeper.
The very first need is to relax yourself. Because in meditation you don't have to do anything.
Just relax, completely relax. Surrender. Surrender to Existence. Relax as deeply as possible.
Sit in whatever posture is comfortable for you. There is no problem. Just go on relaxing completely.
The second step is to enjoy your breathing. Just feel the breath, don't force it. It will take 5 or 10 minutes, but slowly slowly you will become aware of it …
Your body should completely relaxed, and just feel your natural breathing. Remember it, it should be natural, don't force it ! Automatically YOUR BREATHING WILL GO DEEPER AND DEEPER, and it will touch your life centre. It is already touching it, but you are not aware of it. Because you are identified with your mind, and it will take some time for your mind to become aware of your center.
So feel your breathing, don't watch it, feel it. It will go deeper and deeper and at a certain point it will touch your life centre. The moment you touch it there will be a sparkling of life energy, and a new current will be felt in your body. A new, very beautiful energy flow.
There is no need to bring your attention to the third eye centre. This chakra is part of the mind. Sometimes there is a purification there, but don't make efforts to bring energy to this chakra. Your real centre is the Navel centre. This has been your centre from the very beginning. When you where in the womb, you were getting oxygen without breathing, from your mother. And the connection with your mother was trough the navel centre. All kind of food, all kind of energy, all your life needs you are getting from your navel centre.

 When you will bring awareness to your breathing in a more and more loving way, you will discover that the navel is your life centre, you will reach there.
At this moment you will be in the womb again. You can live without breathing, because your navel centre will be again open and working. And you will feel that you are breathing from the navel, and the all Existence is your womb. You will be again a baby. To become a baby again is the all purpose of the spiritual journey : it is called being twice born.

 Deep down it is our deepest desire to become a baby again. We want to be fresh, loving, holy… you can see, the baby has all these qualities. When you are going to bed, all your arrangements for comfort, AC and all, are actually the search of the lost womb. Human beings all search is how to feel in the womb again. Because we all have a taste of it, when we were in the womb it was a blissful time.

Everybody is searching that feeling again. You try outside yourself to find the womb again, but you cannot succeed.
You can find it through awareness of the breath. You will find again the state of consciousness when your breath will stop. In that moment you will feel that the all Existence is your mother. When you will be aware of the navel center your breath will stop again, as when you were in your mother's womb. In that moment your thinking will stop too. Thinking cannot function without breathing.

 Just be aware, very much aware of the navel centre. Even while you are walking, you are working, in every activity of life, most of the time come back to the navel centre.
When you are going to bed be aware of the navel centre. Then in the morning you can dance, you can sing a song … because you are new !

 And during the day live lovingly with your breathing, this loving awareness of your breath will bring you to awareness of the navel. You will be more and more free from your mind, living in the here and now. And one day, Samadhi, enlightenment will happen …. "
BABA
" I am so much in love with Osho.
After my enlightenment I wrote him a letter saying
'You are nothing,
And I am nothing
And nothing is nothing
Only bliss. "
And I got such a beautiful reply from Osho,
saying that when such a state happens to someone
his doors are open towards the divine.
Normally if someone would have written to him
such a thing he would have got a zen -stick from him
but he showered me with his blessings and love.
I live so much in his love
that for me as a person Osho does not exist.
He is still there only as a subtle presence,
a nothingness.
So my understanding is not to worship the person
but live through his message.
He has been trying hard to take us out
of those old patterns.
We need courage to understand his message,
and this courage will come when you will start
standing on your own feet from within.
Osho's message is spreading through books and media
but this is only on the material level.
His message actually is in the air,
in a subtle, mysterious form.
When there is an enlightened master
like Osho or Krishna
who shared so much wisdom,
their discourses do not die.
They are still present in the universe
and whenever a person is ready
they are available to him.


 Whatsoever Osho has said is recorded
in the akashik records.
This existence is a very big tape recorder
and whenever someone becomes aware
the sutras will once again become alive in him.
Even if a sadhu is sitting in the Himalayas
they will be available to him.
So whenever it will be needed the message will be felt.
This knowledge is not limited to the books;
it is much more than that.
Osho is an expression and the proof of Godliness,
and our being on this planet also has the same meaning
that Godliness expresses his creation through us.
And realizing him in this life
is the only reason to be on this planet.
We are the proof and through us he is realized.
We don't have to become anything else
than the proof of Godliness ' existence.
Osho gave this message by his divine being
and by his presence.
So this message will definitely spread in humanity
and the birth of that new man is already in process. "
BABA
( translated by Ma Prathna, excerpt from the Hindi video " Baba in Ganga Dham 2010 " )
Dress recommendation for event:  Loose clothing. Meditation robes if available. Maroon color preferred but not mandatory. 
Disclaimer - Important note –
The participant agree to assume full responsibility for not exceeding my personalphysical limits during my participation in Meditation . It is my responsibility to ascertain that there is no medical reason to prevent my participation in meditations and celebrations. These are informal gathering of friends of Osho who want to meditate in the group. The meetup group is not part of or affiliated to any formal organization in the USA or abroad. The group is not selling or promoting or providing any service. The group is a nonprofit platform for friends to come together for group meditation. Meditations are offered at private homes of the host or at public rented space. I understand that I will follow the parking guidelines and other instructions and I am participating by my own will and I understand that I will take care of myself, my health, and well being during the whole event. The participant assumes all risk and hazard associated with participation. The organizers are not liable. During the event few photos are taken. If you have concerns with the photos then please let the organizers know. The photos may be published on meetup site or other media sites to share.
Organized by:
Osho Dallas Meditation Center
3207 SKYLANE DR
STE 102
Carrollton, TX
www.zorbastudio.com
Ph. 214 995 8925

FOR MORE INFO ON OSHO VISIT
OCT 23-25, 2015


OSHO FEST IN DALLAS-WITH MILAREPA AND ONE SKY BAND
Click here to watch last year's Video

Milarepa and his Music Online
OUR WEEKEND SCHEDULE

EVERY SUNDAY
8:00 AM - 11:15 AM: TRANSFORMATION INTENSIVE
Click here for details
EVERY SATURDAY
8:45 AM – 10:00 AM OSHO DYNAMIC MEDITATION
Click here for details
10:00 AM – 12:00 PM
JUICY REPERTOIRE OF OSHO MEDITATIONS
Click here for details
LATEST VIDEO
Osho Sannyas- How did it start, Ma Dharm Jyoti shares..
____________________
_______________
OSHO: Meditation Is Not for the Suffering Type
Click here to watch Osho Sannyas and Its Importance by Swami Satya Vedant
Download, listen and shop for Milarepa's music at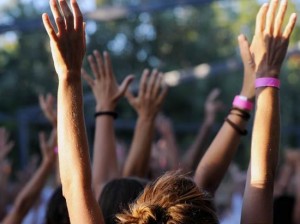 *A few albums are free to download
Large Osho Retreat Centers in Nepal and India
Osho Tapoban, Kathmandu, Nepal
Osho Nisarga, Himachal Pardesh, India
Osho Meditation Resort, Pune, India
Contact OshoViha
for
Osho Books and Discouses CDs and Videos
Check out:
Osho Radio on Internet
Osho Events in North America
Check out:
Osho North America (NA)
Click here to watch Osho Videos on YouTube
Buy Osho Audio, Video, E-books, Discourses, Music Online